Extras
Adding a few aesthetic extras goes a long ways towards dressing up a building Most customers want the economics of a metal building but don't want it to look like "Steve's Air Conditioning" in their back yard. (no offense to Steve)

Lean-To's are economical and create much welcomed protection from Arkansas's sun and rain. After 26 years of building buildings a few things have come clear. Human beings and hound dogs love lean-to's. Lean-to's can come off all four sides. They can come with a dirt floor, a finely graded gravel floor or a concrete floor. When pouring a concrete floor for a lean-to we typically give it a broom finish for outdoor traction. There are three choices with lean-to's.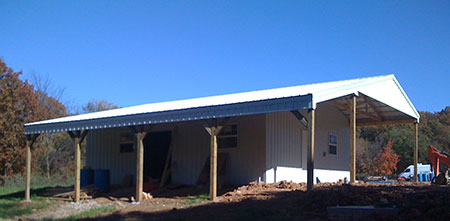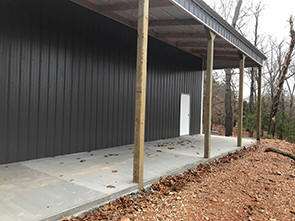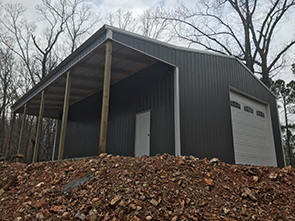 Classic American Farm is where the high side of the lean-to starts at the main buildings drip edge. The lean-to has a lower roof pitch than the main building.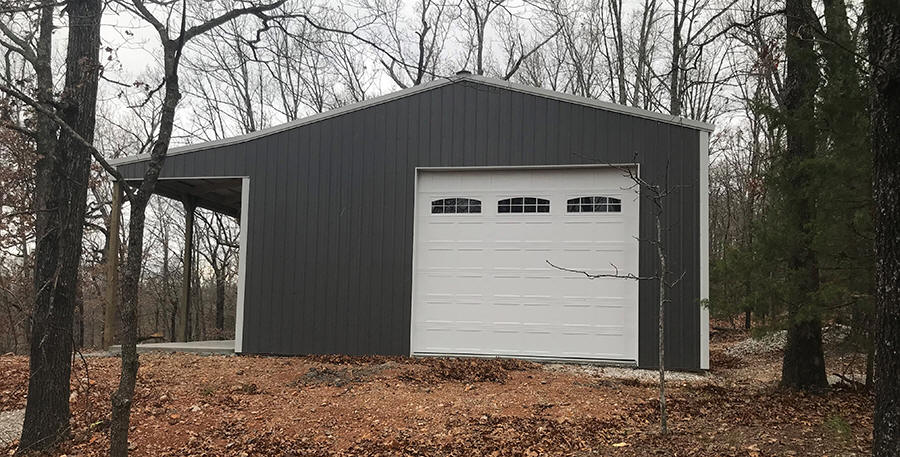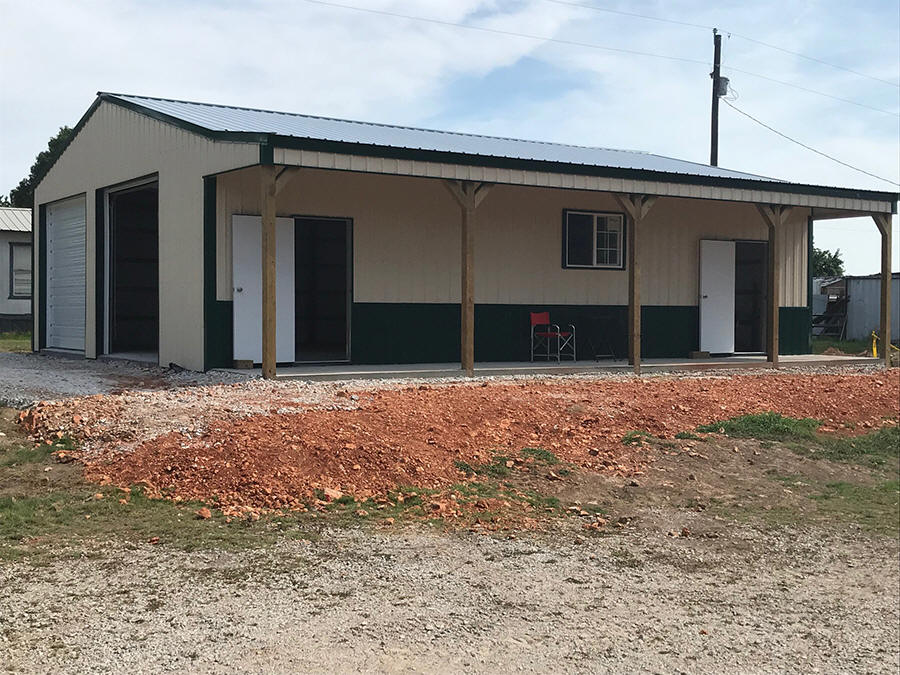 Monitor Style is where the lean-to starts a couple of feet lower than the main buildings drip edge. Some people refer to this as a Kentucky horse barn. This style is distinct.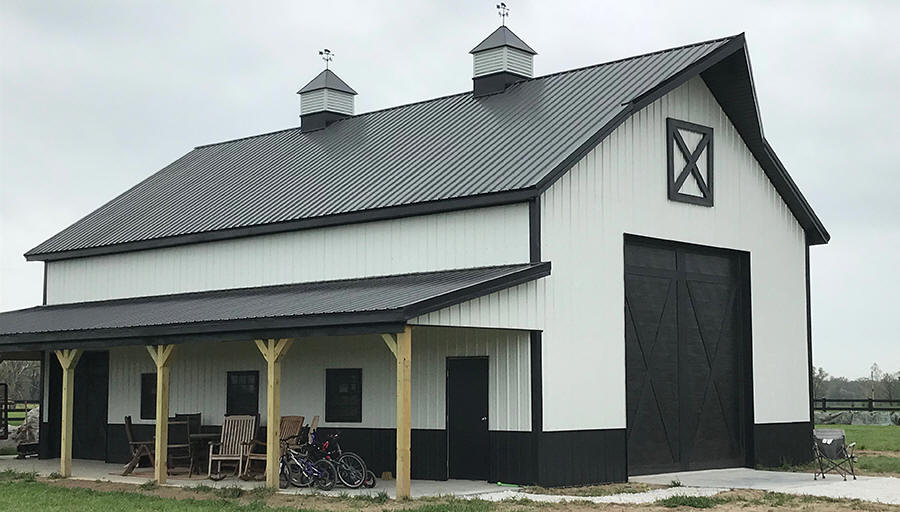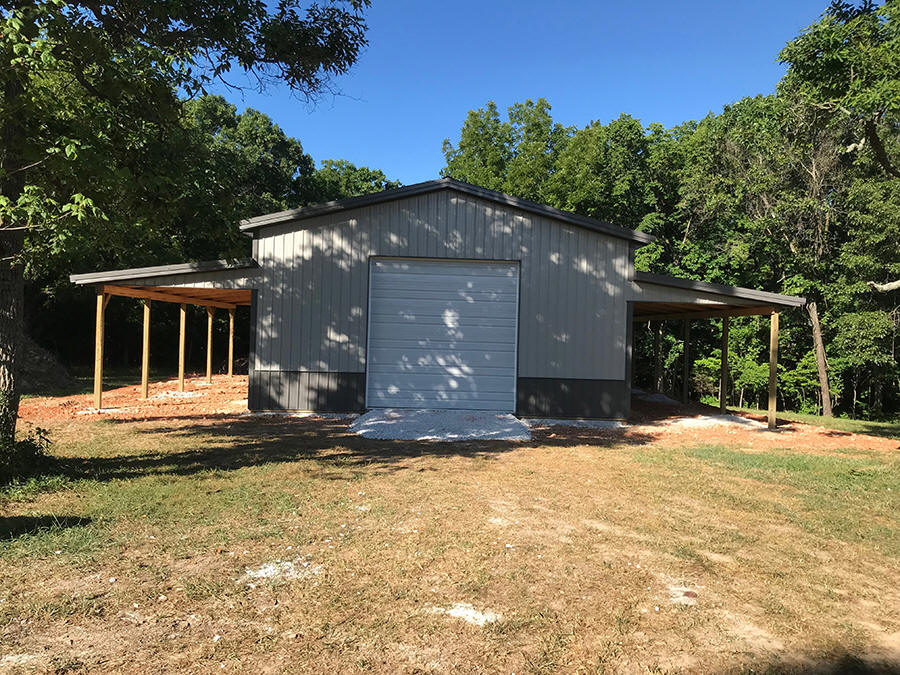 Nuevo Style is where the lean-to keeps the same height and roof pitch of the main building.
Inset Bays

Furring Walls We can build Furring Walls for you on the inside of the building so you can hang sheetrock. Furring walls are built on the inside of the exterior walls inside Pre-Engineered Steel Buildings and Post Frame Metal Buildings so you have a smooth surface to screw (attach) your sheetrock or tongue and groove wood siding to.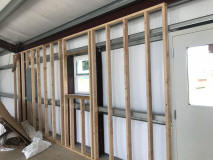 Furring Wall for Post Frame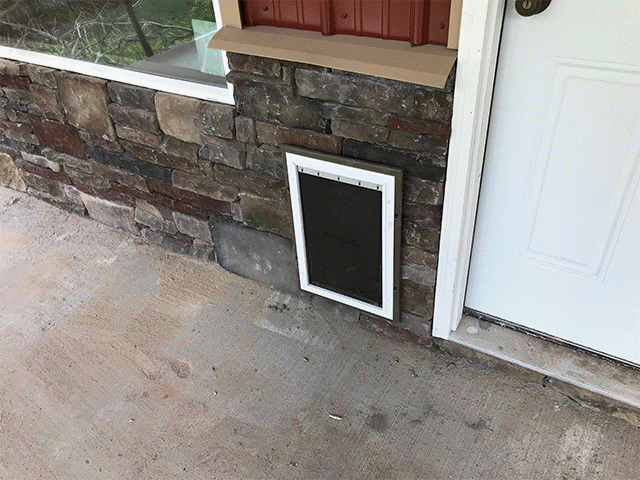 Internal Walls are essentially bedroom and bathroom walls" These are built in such a way they are ready for you to hang sheetrock. The internal framed openings for walk doors are part of the package. We can also do "pocket doors" if we know in advance."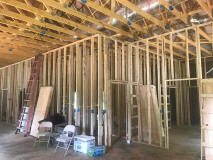 Internal Insulation is the second layer of insulation (fiberglass batts) that is put in between the wall studs on the exterior walls. All OMB buildings come with a R-10 value and Low-E insulation installed sandwich method (this is done so the building will not sweat). When the building is going to be a home the R-10 is not enough. A second layer of insulation is needed on the inside of the exterior walls. We recommend and install fiberglass batts insulation as shown in this photo. This second layer of insulation can be had in R-19, R-24 and even R-30 values.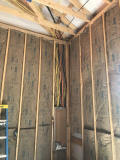 We like to quote the internal work only after we have quoted the "shell" and you have acknowledged that this is what you want.
Kitchens
Custom Cabinets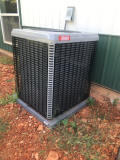 HVAC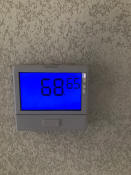 Heat Ventilation Air Conditioning systems are available. The hvac system is typically put in before the internal walls and before the sheetrock is hung. The size of the AC unit will be matched for your internal volume.

Mechanic's window
Underground Electric Conduit keeps the ugly SB connection from going through the wall. The height is already set to meet code. The rebar coming up through the concrete is the Ufer rod (grounding rod) and is tied into the rebar in the foundation.



Inset Bay is engineering speak for a roof overhang coming off the end of a building that keeps the same roofline. Inset Bays were popular with service stations of the 1920's. Today they are economical and very useful. Like a lean-to they give protection from sun and rain but are different.
Light Solutions Putting fixed glass windows high in the walls flood the interior with light and keep the building secure.
Ground, Polished and Clear Sealed


Overhangs are probably the most dramatic addition a customer can add. The building instantly looks more expensive than what it cost to build. Overhangs give a more residential look.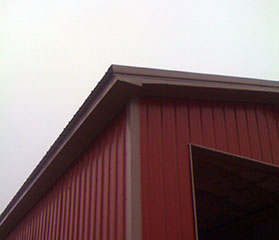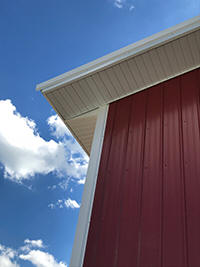 Wainscot has been dressing up buildings since the 17th century. Wainscot is available in metal panels of a different color. Wainscot comes with a special trim that directs water to the outside of the building. (where it belongs) It is also available in brick or stone, cultured or real. We are fortunate enough to have a bricklayer with over 30 years of experience work for us. We usually can match your homes existing brick or rock work. By using the exact same brick or rock wainscot as your home, it instantly makes your new building belong.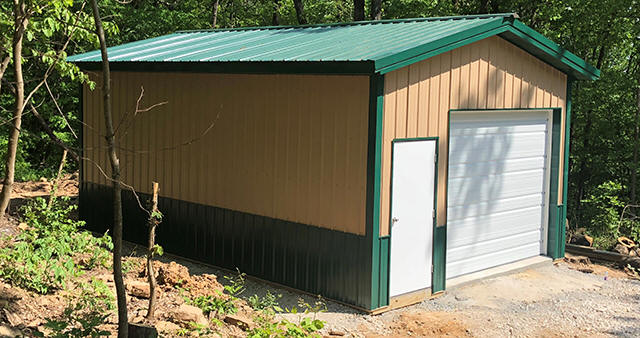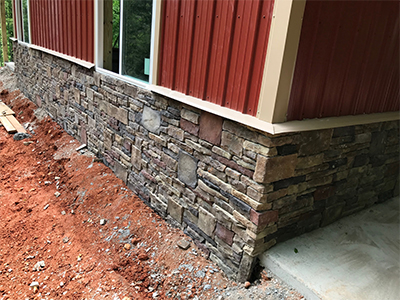 Wood Corbels really soften up a metal building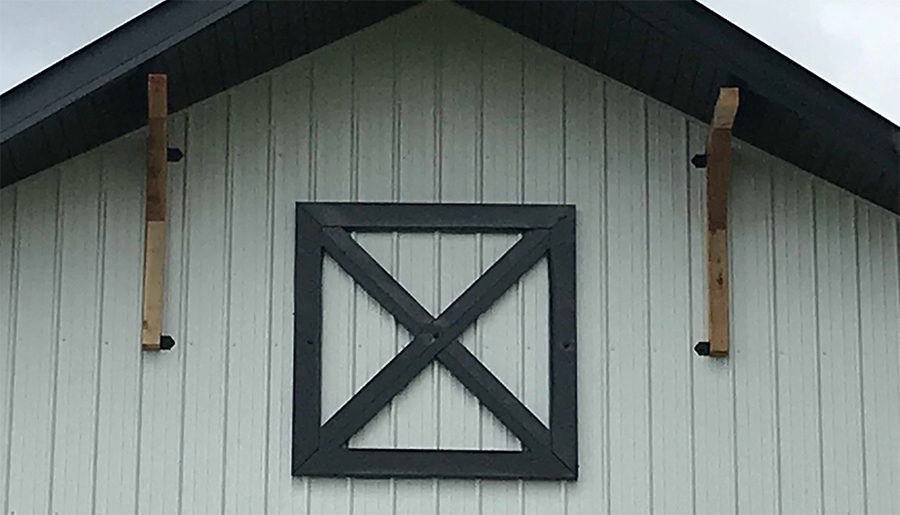 Stained Concrete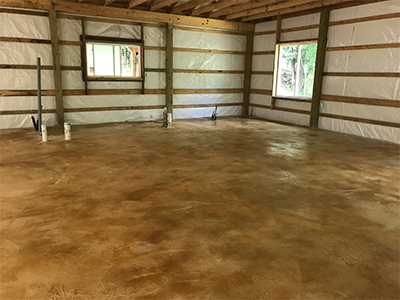 Cupolas add character. If you want for your building to stand out from the crowd, a cupola will do it. Available in different sizes to match the proportions of your building. They come in maintenance free metal or glass. Past customers have put lights inside their glass cupola's to add a touch of whimsy.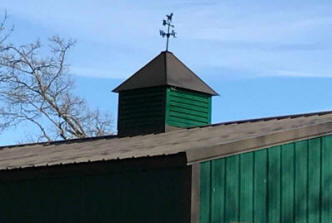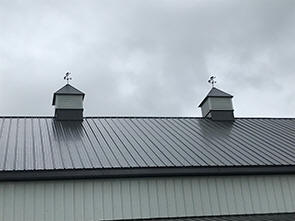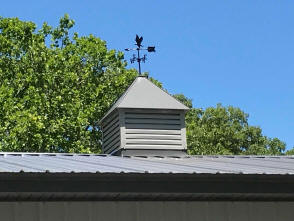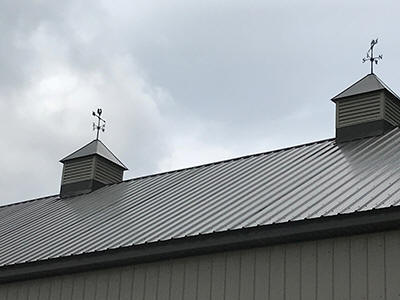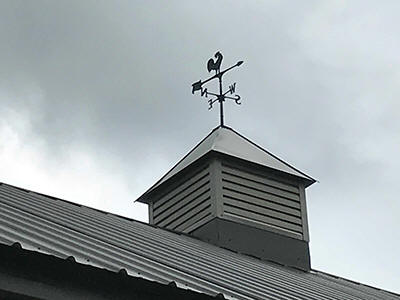 Flying Gables are alive and well in the Ozarks. Flying Gables are economical and create a instant classic. Guaranteed to be a conversation starter with your friends and neighbors.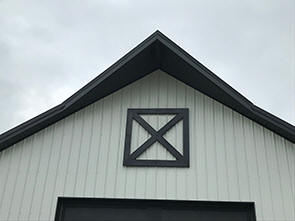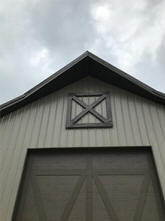 Sliding Doors tells the world that this is a horse barn. The old fashion sliding door still plays a part in this modern world. Any horse owner can tell you why they want a sliding door instead of a overhead.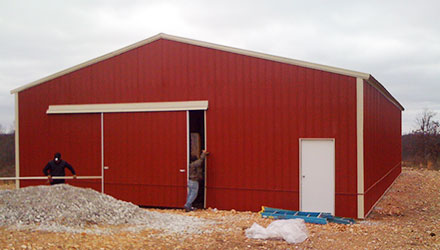 Dutch Doors just about seem standard for a fancy horse barn. Built strong enough to hold up to a draft horse these are the real McCoy. 5" x 5" post are used for the door jambs. Typically these Dutch Doors raise the self esteem of any breed.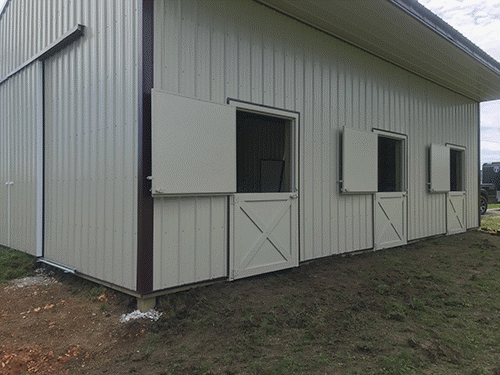 Custom Features - We offer a host of custom features to make your building your own.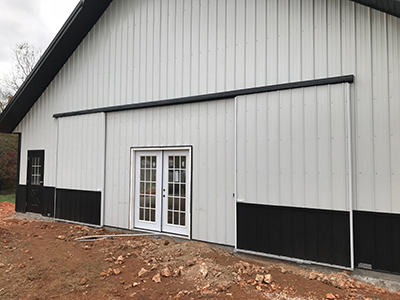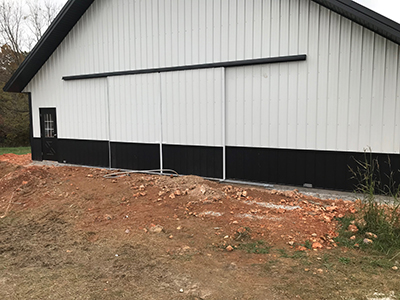 In-floor radiant heating systems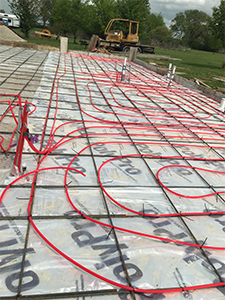 Horse Stall
Dutch Doors
Sliding Doors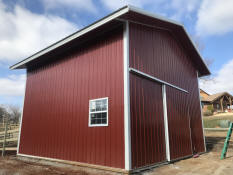 Hay Lofts